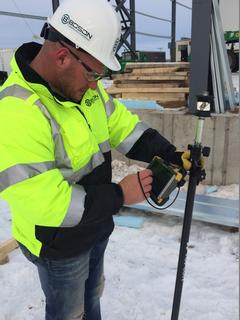 Getting It Right - From The Start
The right management tools improve results. The Boson Company is utilizing some of the latest technology available with our Topcon Total Station Layout Navigator System. This allows us to begin to save our clients' money right from the start of the work in the field. What used to be a two-man and time-consuming process can now be streamlined for your benefit and the benefit of your overall project schedule.
Robotic total stations lead the industry for high-accuracy construction stakeout and layout of nearly all aspects of the project. Autodesk design files now move seamlessly from the office to the field. Boson can pinpoint topographical and point locations for site; grade; line; elevation and other critical dimensions of the design faster and more accurately than ever before. Some key features include:
Single-operator solution
Precise 3D layout
Self-leveling setup
Wireless communication
Real-time positioning on the go
Exterior and interior layout
The Boson Company continues to utilize the latest technologies that help us to assure our clients of a collaborative environment and successful building project while providing a great value. Using our robotic total station allows us to get it right the first time – and every time. Construction is highly technical. Let our experience work to simplify it for you. We build, and make sure it's done right so you can focus on excelling at your business.