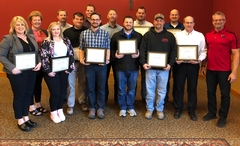 Joe Dolezal and Nick Anderson of The Boson Company, Inc., recently completed year-long leadership programs.
Joe Dolezal graduated from the Associated Builders and Contractors Emerging Leader Program. The ABC program is designed to provide education and enhanced knowledge on relevant topics selected by a taskforce of construction business owners in Wisconsin.
Nick Anderson graduated from Leadership Marshfield - who's purpose it is to identify, train, and enhance the ability to function as leaders in the community. Nick and his leadership team developed a "weighted blanket" program in Marshfield for those in need.
Congratulations Joe and Nick!