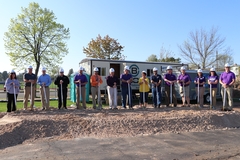 A Ground Breaking Ceremony was held on May 15th for a New Science Wing Expansion at the Mosinee High School. The 3 million dollar project includes more than 12,000 square feet of new space to house state of the art classrooms for Chemistry, Biology, and Natural Science. The project also includes more than 8,000 square feet of remodeling in the existing building classrooms.
The site is cleared and foundations will begin immediately as the Mosinee School District has an extremely aggressive schedule to have the space available as early in the new school year as possible. Specialized laboratory casework and fume hoods will be installed as quickly as they can be manufactured and ship to the site.
This is the second summer in a row The Boson Company has constructed New Science Rooms for an area School District. In 2017 Columbus Catholic High School in Marshfield completed a new Chemistry and Biology Addition and renovated the existing Science Rooms.