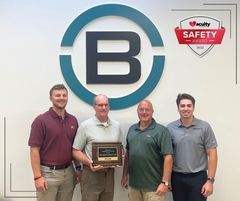 On Thursday, August 24th Tom Hunn, Loss Control Representative from Acuity, presented The Boson Company with the Acuity Insurance Safety Award. This award is given to businesses that are exemplary in their partnership with Acuity to help ensure a safe workplace.
Hunn stated to the team, "You're a part of a very select group, with less than 1% of our contracting insureds earning this award. You and your employees should be very proud of the daily dedication, in the office and on the job sites, needed to achieve such a result."
"We have always prided ourselves on maintaining an excellent record for workplace safety," added Joe Dolezal, Vice President of Construction at Boson Company. "Safety is the most important role of all of our jobs. We have very talented staff and are proud of the work that we do."
Dolezal also organizes the staff safety meetings and provides employees continued learning opportunities with partner organizations like ABC of Wisconsin and AGC (Associated General Contractors).
The Boson Company, located in Marshfield, Wisconsin has been operating as a construction manager and general contractor for over 90 years with experience in Worship, Commercial, Dairy and Food, Office, Medical, Financial, Educational and other types of buildings. Boson works with each client to enhance the pre-planning, design, schedule, and cost, through thorough collaboration.
Acuity Insurance, headquarters in Sheboygan, Wisconsin insures over 130,000 businesses, including 300,000 commercial vehicles, and nearly a half million homes and private passenger autos across 31 states. Rated A+ by AM Best and S&P, Acuity employes over 1,600 people.
---
Pictured left to right: Tanner Boson, Project Manager; Joe Dolezal, Vice President of Construction; Tom Hunn, Loss Control Representative with Acuity; and Nate Boson, Estimator.