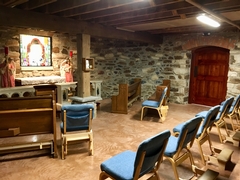 The Boson Company has been awarded a Build Wisconsin Award by the Associated General Contractors for the Mother Frances Streitel Center and John Paul II Adoration Chapel project located in Marshfield, Wisconsin.
This unique worship space is located within the 24" thick stone walls in the undercroft at Saint John's Catholic Church.
The original stone for the walls was brought in every Sunday by Parishioners and the unfinished space was constructed in 1892. Boson employees searched local farm fields for stone to match for the Renovated space. The original stone, timber beams, and floor decking were cleaned by ice-blasting more than 100 years of coal and wood-burning soot away. Footings were added and damaged structure replaced to support the church above.

Home to numerous religious artifacts, preserving a part of Marshfield's history, the Chapel is open 24 hours a day for continuous prayer, worship, and classroom teaching for the public and adjacent elementary school.