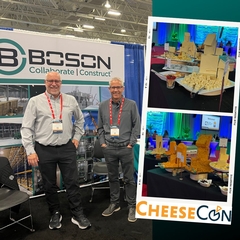 On April 5, 2023, Scott Boson, President; Kurt Boson, Vice President; and Krystal Bowman, Business Development Director, attended Cheese Con in Madison, WI at the Alliant Energy Center. In addition to sampling delicious Wisconsin cheese, they were able to network with several industry leaders, partners, and clients.
Cheese Con is an event that brings together more than 3,000 dairy industry leaders, suppliers, and marketers to share information about the latest in cheese technology, workforce, product safety, marketing, and dairy exports.
The Boson Company is proud to be a construction management leader in the dairy and food processing industry – a local industry that continues to grow, thrive and build our local economy.
The event is hosted by Wisconsin Cheese Makers Association and the Center for Dairy Research.