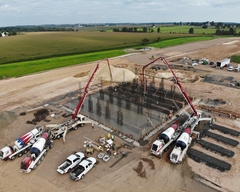 The foundation slab for Northside Elevator's new 15,000-ton Fertilizer Plant on Highway 29 in Stanley, Wisconsin, was placed on Tuesday morning, September 6th.
It took a crew of 50, supported by two large concrete pumps, to unload a continuous line of ready-mix trucks - approximatley one every 5 minutes - to place and finish 1,000 cubic yards of concrete. The special concrete mix utilized a superplasticizer to help keep the concrete flowable and increase the strength with a low water to cement ratio. The slab included more than 482,000 pounds of reinforcing steel. The new 300-ton blending tower on site will reach a height of 140 feet tall when completed.
The Boson Company is honored to be the Construction Manager for this exciting NSE development!