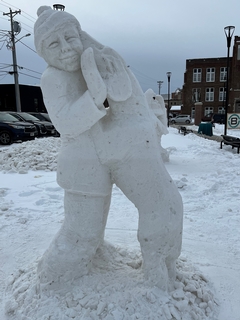 The Boson Company brought a new community event to Marshfield featuring professional snow sculptures. Wenzel Plaza - which was constructed by Boson in 2017 - was the ideal location for the eight giant works of art. It started on Monday when a crew of our people assembled the 8 foot tall forms to fill and compact with snow. Thursday the forms were stripped and the pros took over and began their work. After 2-1/2 days the scuptures were completed and Snow Fest was officially launched.
A steady flow of people passed through to see a Boy and his Sled; a Girl and her Saucer; a Fish; a Butterfly; a Pair of Lemurs; an Armadillo; a Dog greeting its Owner; and The Call of the Wild.
There were freshly toasted s'mores, hot chocolate, coffee and more for those willing to brave the temperatures. Those cold temps should keep the sculptures around for quite some time. Be sure to take a walk through the plaza and see this amazing display!
Thank you to the generous donors that dropped off more than a truck-load of warm childrens clothing items to be distributed in our elementary schools.
If you don't make it before the weather takes it's toll - check out the photos on our web site under the SNOW FEST tab. Can't wait for SNOW FEST 2024!