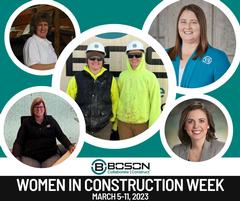 Women In Construction Week (March 5-11, 2023) celebrates and promotes the role of women in the construction industry. We would like to recognize the incredible women who work here at The Boson Company, Inc.
Krystal is the most recent addition to the Boson team. As Business Development Director, Krystal is responsible for expanding the company's business opportunities, business development, and marketing.
Diane is one of our Estimators and is an integral part of each and every job. Estimators analyze blueprints, schematics, specifications, proposals and any other documentation to prepare time, cost and labor estimates for construction projects.
Cassie and Chelsey are two of our Carpenter Apprentices. These women work diligently on the job sites week after week. Carpenters construct, erect, install, and repair structures and fixtures of wood, plywood, concrete, steel & wallboard conforming to building codes. We can't wait to watch them grow and excel at their trade.
Katie is our Administrative Assistant – a title that is a good catch all for all the hard work she does to keep Boson's team moving forward. Not only is she the friendly face when clients, contractors, and community members enter our building, she helps any and all staff members with any task thrown her way: equipment rentals, safety logs, invoicing, mailings, ordering, meeting agendas, and so much more! Not to mention she is celebrating 18 years with us in 2023… it doesn't get much better than that!
Last but certainly not least is Lin, our Accounting Administrator. She oversees accounts payable, receivable, payroll processing, and provides analytical and clerical support for the corporate officers. Lin has been with us for 39 years! The years of knowledge and reliability cannot be replaced.